Internship in Student Services (LHA5812H & LHA5813H)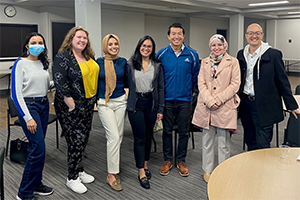 Special Topics in Higher Education: Master's Level Internship in Student Services – Build your experience in Student Affairs and Services by earning course credit through an internship to develop career ready skills with graduate level experience. Professional placements are in the Higher Education sector, namely in Student Affairs Offices such as Student Life.
New: Summer 2023 Internship opportunity at Western Michigan University
Course Overview
Course code: LHA5812 & LHA5813
Credit Value: 0.5 FCE
Instructor: Dr. David Kim
Schedule: Class times are determined collectively and scheduled according to the availability of the entire group.
Prerequisite: LHA1854 (Student Development Theory) or upon approval of the instructor.
Course Description
The internship offers students the opportunity to gain paid work experience under the guidance of professionals in a student affairs and services environment. It's a great opportunity for students to be integrated in a team and to focus on a project with outcomes focused on student development. As part of the internship course, students will explore topics that relate to the intern experience, professional identity, and competencies that are associated with the field.
The course typically spans 2 terms giving student interns the opportunity to immerse in the working environment, develop relationships, and to build on the skills and knowledge that will benefit them as they make the transition into the field. Students are expected to have completed LHA1854 (Student Development Theory) so that they are able to make connections to the theory related to student development during their internship period. Past work experience and coursework may be considered.
Learning Outcomes
To engage with resources that will help develop and refine competencies compatible with the academic and professional goals of the Intern, in consultation with their Instructor and Supervisor;
To provide experiences that will clarify and broaden professional career alternatives for the Intern;
To establish a teaching and learning environment in which the Supervisor assumes a coaching role, encouraging the Intern to experience and be adequately instructed in pertinent aspects of the functions, responsibilities, and relationships of the internship site and various personnel involved in these activities;
To engage with opportunities in the establishment of professional relationships with administrators in higher education and student affairs settings;
To develop a better understanding of one's professional identify and the values that shape this; and
To take part in supervised experiences that are conducted under established professional practices and that participants are provided with support for resolving concerns or questions during the internship.
Success Criteria
For successful course completion, the intern will:
Complete all academic course requirements by the assigned deadlines.
Complete all job requirements as outlined by the site supervisor.
Write 3 thoughtful, insightful, scholarly reflections on the experience, including lessons learned as a student practitioner and how this relates to professional growth.
Complete the mid-term and end-of-term assessments along with the supervisor with achievement of strong performance growth.
Take full advantage of the internship position, including but not limited to: engagement with the broader team, participation in team meetings and activities, regular meetings with the site supervisor.
Ensure alignment with the policies, codes of behaviour, and practices of the host site.
Review the CACUSS competencies document, set goals for competency development, and work towards development of those competency areas.
What does participation in the internship/class look like?
In describing the split between the class and internship work, it is approximately 20% class to 80% internship.
As part of the internship role, students will be hired on into the department which includes completing all the required paperwork and training.
Student interns will work out a schedule with the site supervisor and they will orient the intern to the work environment, what resources they will have access to, and what they will be working on within the work term.
The class will meet every week for the first month and then shift to having 1-on-1 meetings with one class scheduled at the mid point and at the completion of the term.
Steps to applying to the internship position and enrolling in the class
Identify internship position – e.g., on the UTM website (https://www.utm.utoronto.ca/sas/sas-internship).
Apply to the position by the posted deadline.
Upon successful selection (i.e., being offered the position), fill out the course add/drop form which can be found at https://www.oise.utoronto.ca/home/current-students/student-forms.
Ensure that the form is also signed by the Instructor.  
Once selected for the internship position and enrolled in the course, the student will then receive information from:

The Site Supervisor – For information related to the internship role, hiring, onboarding, location details, etc.
The Course Instructor – For information related to the course, syllabus, class dates, etc.
Student Testimonials
Participating in LHA5812 and LHA5813 courses was one of the best decisions I made in my OISE journey. I worked with two different internship sites and learn't more than I could have imagined. During my internships, I got to participate in administrative meetings, network with senior members of the leadership team, and work on projects that directly support student success. The internships allowed me to hold para-professional roles while still working on my master's program which is a rare opportunity. I'd encourage anyone interested in working in higher education to apply to the internships!
Sukhmani
LHA5812H provided me with an opportunity to expand my skills with the guidance of my supervisor and Professor Kim. It also allowed me to apply the knowledge and skills gained throughout the program at OISE. Professor Kim is always ready to help his students, he regularly checks ins and provides interns with the support and opportunities to learn and grow. He really cares about the students and their success.  Chad Nuttall and his team provide a great orientation session to help the interns get familiar with the campus and the available resources available. Him along with the CSE staff are available throughout the semester and beyond to help interns grow in their professional fields. The entire internship experience has been a positive one for me and my peers. 
Wania
My name is Xueqing Mi, and I graduated from the Higher Education SDSS program. I was very honoured to be part of Dr. David Kim's LHA5812 Internship in Student Services course in Summer 2022. As an international student, this internship program helped me immerse myself in the Canadian higher education system beyond academic theories.  I was an intern for residence education at UTSC student housing and residence life. I benefited from many aspects of this program. First of all, based on CACUSS Student Affairs and Services Competency Model, I had the opportunity to choose several competencies that I hoped to improve. My staff supervisor Amber Woods and I worked together to select the goals for the internship and the steps to achieve them. In addition, I enjoyed the regular 1:1 meetings with the instructor and staff supervisor, those conversations gradually developed my professional identity and values.  Also, the mid-term evaluation and end-of-term evaluation ensured the consistency and effectiveness of the internship. Last but not least, the internship program sparked my interest in the residence life field and prepared me for my career development. With this passion and responsibility, I worked as a Residence Don at UTSG the following semester while continuing to work at UTSC Residence Life. I am currently employed by Queen's University where I am continuing my work in the same area.
I want to express my gratitude to everyone who supported me with my internship. I strongly recommend this internship program for all MEd students in Higher Education. I'm sure you'll be appreciative of the experience and your courage, just like I am!
Xueqing
"I am incredibly grateful for my time with LHA5812H. It provided me with an invaluable opportunity to explore facets of the Student Services field I never had the chance to experience through my career to that point. By immersing myself into the internship, I was able to start developing a new set of skills while contributing in a real and meaningful way to the functions of the department, as well as their goal to enhance the experience of the students they represented. In the end, the internship allowed me to get my foot in the door and pivot my career in a completely new and exciting direction."
Winston
This internship in Student Services has had a tremendous impact on my career as I transitioned from graduate school to the professional world. It provided me with the opportunity to reflect on my past experiences and explore various areas of student affairs through hands-on experience, as well as working on a project from start to finish. I am particularly grateful for the mentorship and guidance I received from both the course instructor and supervisor, which provided me with additional support in navigating the job search process and building meaningful connections.
Yue Zhou, MEd Student in Adult Education and Community Development
"After a year of unemployment during the pandemic and starting my MEd full-time, this internship program was exactly what I needed in so many ways. It fit perfectly with my schedule, allowed me the opportunity to get paid higher education work experience, and made up two of the courses I needed to graduate. These experiences helped me build a strong network within my placement site, which I now work for full-time, with the hopes of one day supervising another OISE Intern on their higher education journey."
Ruthann
"This internship has been a transformative experience in many ways. It encouraged me to bridge the gap between theory and practice – something many seasoned professionals still struggle with. Most importantly, it helped me form valuable connections with practitioners in the field. As someone who had experience in other areas of higher education, this internship facilitated the transition from a familiar area to new and exciting opportunities!"
Gilbert Lin, M.Ed.'21
Internship in Student Services was an extremely important course to me as an international grad student who was looking to switch career paths into Higher Education from a completely different industry. The course gave me a glimpse into working in Student Life and married very essential experiential learning to relationship-building at the University that allowed me to create valuable professional connections that I still hold on to today. I am grateful to our Instructor, David Kim, who created a safe space for peers to reflect and share with one another and passed on his knowledge and guidance. With the skills, networks and experience I gained from my internship through the course, I have been able to navigate the world of work in Student Life with confidence and competence. 
Rhea Pillai (Internship in Student Services, Winter 2021)
Participating in the Internship in Student Services is a great way to get professional experience while earning course credit. Through my internship at the Center of Student Engagement, UTM, I was given meaningful work that helped me put into practice all that I had been learning over the course of my program. The opportunity to network and learn about different aspects of higher education made this internship valuable to my professional and personal development.
Alison D'Cruz
If you are passionate about student affairs and student services in higher education, and would like to learn more about them, then the OISE internship is the best way to start your career. This internship provided ample opportunities for personal and professional development. Working with a team of student life professionals taught me a lot about student development programs and services that I would not have known about if I hadn't been a part of this program. Another significant benefit of this program is the opportunity to network with student life professionals from diverse areas. I would strongly recommend joining this internship program if you want to obtain real-world experience in student affairs in higher education.
Jiyoung
My OISE summer internship at UTM's Centre for Student Engagement (CSE) was an incredible experience that helped me transition my career from K12 educator to student affairs professional. The internship program provided practical work experience and contributed to my professional growth. The Pro-staff's mentorship and guidance were vital to my career transition. 
Thanks to the skills I developed and the networking during the internship, I secured a job just a few months later. This achievement is a testament to the OISE internship program's quality and the generosity and dedication of the CSE Pro-Staff.
I highly recommend the internship program to any student seeking a transformative and career-enhancing experience. Thank you, Professor Kim and the Centre for Student Engagement's team, for your invaluable contribution to my professional journey!
Martha
The Internship in Student Services has been an incredibly rewarding experience for me. Throughout this journey, I had the privilege of collaborating closely with my supervisor and students from U of T to develop and implement programs that prioritize the well-being and interests of the students. I am grateful for the support and flexibility provided by my supervisor, who consistently offered constructive feedback that I greatly valued. The accompanying course, LHA5812, has allowed me to reflect on my approach to student services and apply theoretical knowledge to real-world scenarios. Without a doubt, this internship presents a wonderful opportunity for anyone passionate about making a difference in higher education through student services. 
Yue Cai
 
Summer 2024 Internship Opportunity at Western Michigan University
Opportunity: Up to 2 paid internship positions (earn OISE credit) during Summer 2024 at Western Michigan University within the Division of Student Affairs.  
Internship Opportunity in Student Services departments at Western Michigan University (https://wmich.edu/)
Dates: Approx May 1 – August 4, 2024 (240-300 hours approximately 30-35 hours per week to be negotiated with intern and host site); may span anywhere from 8-10 weeks depending on the position.
Opportunity: Work within a student services associated department at WMU, a globally engaged national research university with over 19,000 students and gain relevant work experience within an international context while earning a credit towards your degree
Compensation: Includes stipend of approximately $15USD/hour for a range of 240-300 hours ($3600-4000). Includes housing, guaranteed residence hall room (kitchen may be available, specific accommodation TBD in February)
Other Important Details:

The provided housing is single occupancy and intended only for the J-1 scholar intern; housing not available for additional guests.
Students may bring a vehicle if applicable (parking decal included from university)
OISE students are responsible for administrative and travel fees. Resources for possible financial aid will be shared with students but not guaranteed. 
Travel to WMU can be by personal car, airplane, bus, or Amtrak from Detroit to Kalamazoo. Travel is the responsibility of the intern.
OISE students who are hired must provide proof of valid passport, language proficiency, health insurance, and visa interview. 

Important Dates:

Nov. 15 – Expression of interest by sending an email to dy.kim@utoronto.ca
Nov. 28 – Virtual meeting with OISE/WMU for program details
Nov. 27 – Application deadline (resume and cover letter)
December – Interviews and applicant selection
Interested applicants will submit a cover letter and resume and WMU offices will contact candidates who will be invited to participate in an interview. Final candidate selection will be determined by the team at WMU.
WMU Fast Facts : Western Michigan University (WMU) is a mid-sized research university located in Kalamazoo MIchigan, halfway between Detroit and Chicago on an Amtrak train line. Located in the Midwest of the United States which is sometimes referred to as the original heart of students. While in Kalamazoo OISE students are welcome to explore the community as well as visit two other colleges in a 7-mile radius of WMU which are Kalamazoo College, a small-private liberal arts college and KVCC, a public community college.