Event preview: Three OISE authors pen text on anti-racist and activist teacher education
September 25, 2023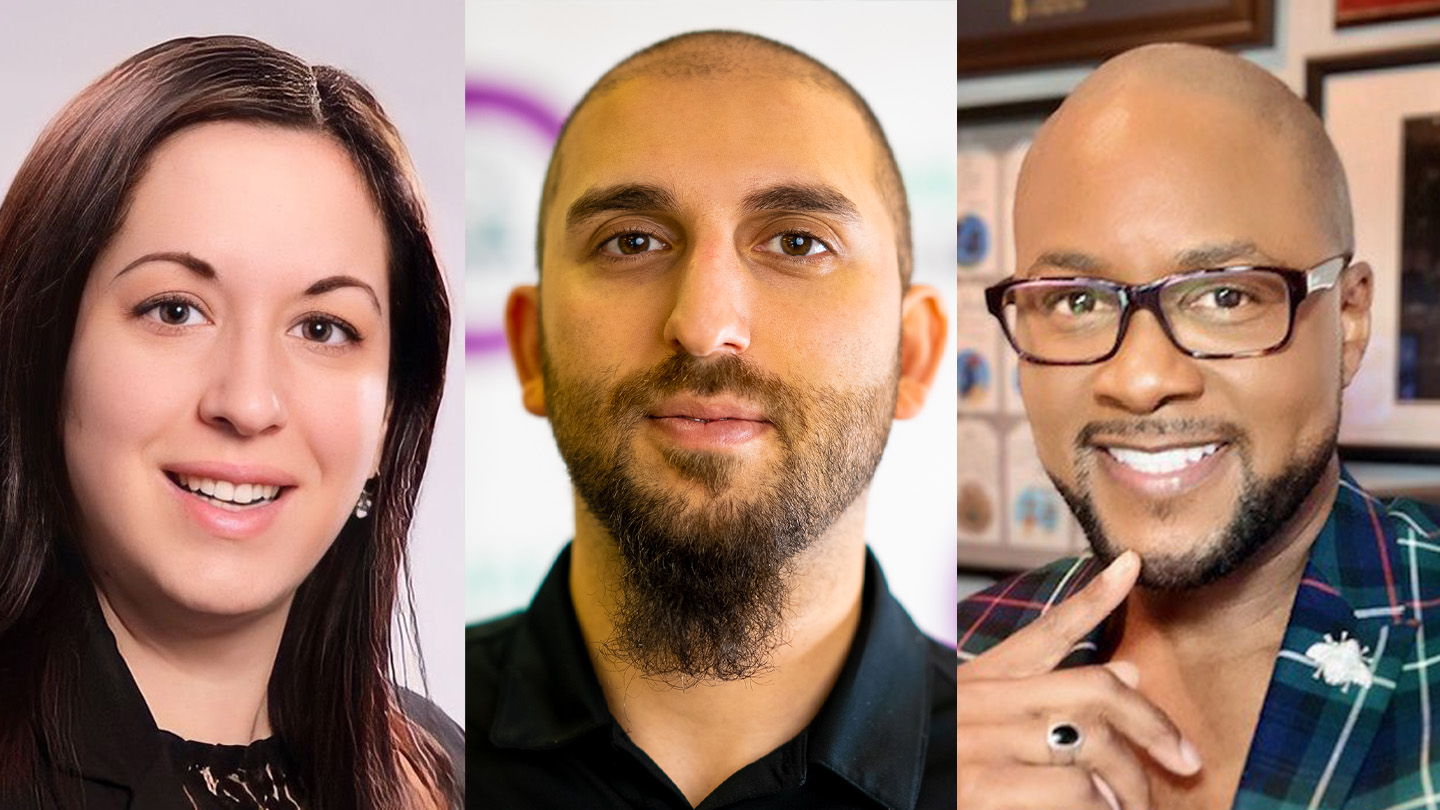 On Oct. 3, 2023 in the OISE Nexus Lounge, three OISE-affiliated researchers will launch their co-written book to discuss the text's themes, goals, and intentions.
Dr. Andrew B. Campbell, Dr. Ardavan Eizadirad and Dr. Zuhra Abawi came together to create Enacting Anti-Racist and Activist Pedagogies in Teacher Education, an edited collection of writings that examine the complexities, challenges, and possibilities when faculty advocate and implement anti-racism approaches and pedagogies in Canadian teacher education programs.
The text centres the experiences of Black, Indigenous, and racialized faculty and challenges the pedagogical, curricular, structural, and institutional underpinnings in teacher education framed by whiteness.
Before the authors meet with educators, community members, and OISE alumni and friends for this launch, they sat down with OISE to help us understand the many ways that anti-racism can work. The below conversation was edited for grammar and structure.
At the event, the publisher Canadian Scholars Press will be there to sell books with a 20 per cent discount.
To register for the event, please visit this page.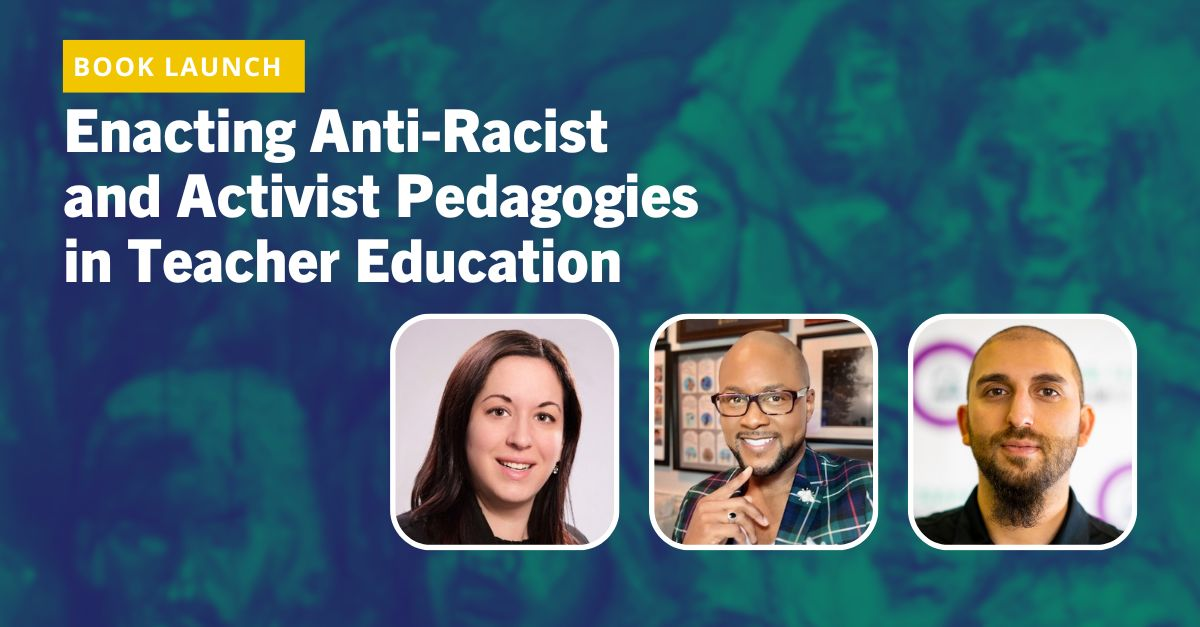 About the authors
Dr. Ardavan Eizadirad is an Assistant Professor in the Faculty of Education at Wilfrid Laurier University and the Director of EDIcation Consulting (edication.org) offering equity, diversity, and inclusion training to organizations.
Dr. Zuhra Abawi is an Assistant Professor in the College of Education at Niagara University, Ontario.
Dr. Andrew B. Campbell (Dr. ABC) is an Assistant Professor, Teaching Stream, focusing on leadership for racial justice in teacher education at OISE.
---
Why did you all choose to write this text at this point in time?
Dr. Abawi: The content of the text is something I have always been passionate about. The timing of this text is important, especially in light of the backlash against discussions of Critical Race Theory in schools which seeks to silence the lived experiences of racialized students, families, and teachers.
As we have seen with recent Ontario Ministry reviews of school boards in the Greater Toronto Area, racialized students, staff and parents are continuously subjected to white supremacist norms embedded in the education system, and unfortunately these harms manifest themselves in disproportionate disciplinary practices, streaming, and chronically low expectations. The text re-centres the voices and lived experiences of activists, educators, parents, and community members to challenge deficit perspectives that undergird settler-colonial education systems. The timing of the text fits into the larger social and political climate of schooling in Canada, as many school boards are attempting to put more emphasis on diversity, equity, and inclusion initiatives.
However, these attempts will remain performative without critical anti-racist and activist approaches that the text draws on  to dismantle whiteness and white supremacist educational structures.
How can a reframing of teacher education in this text bring about more change in pedagogies but also in systems and institutions? Is that a hope/aim of this read?
Dr. Eizadirad: The objective of the body of work in this collection is being able to critique institutions for their shortcomings but also advance the conversations beyond criticism to action, particularly around innovative strategies and solutions to make teacher education more diverse, inclusive, and equitable so all students and communities can thrive. If we want to change something, we must first have honest conversations about where there are existing gaps and why it is not being addressed. This text is very intentional in amplifying the voices of scholars, activists, professionals, and people with lived experiences to guide the conversation and move us to take action and hold institutions accountable in the area of teacher education.
Why is it important to focus on the possibilities when faculty advocate for anti-racism approaches to education?
Dr. Abawi: Much of the time, activist educators are punished and silenced for disrupting and challenging the status quo of white hegemony in educational systems. Educators often experience career impediments for engaging in this work and quickly get labeled as 'trouble-makers.' Academia, similarly to K-12 education, is a very white space where white faculty make up the majority of tenured and tenure-track faculty. Racialized faculty are therefore much more likely to be overrepresented in precarious positions, pointing to power dynamics that perpetuate the culture of whiteness in teacher education programs.
While there are a lot of challenges faculty must navigate when engaging in anti-racism activism, focusing on the possibilities of transformative approaches demonstrates what critical education can look like; notably community engagement, student voice, alternate epistemologies and pedagogies that de-centre Eurocentrism. By focusing on the possibilities of re-imagining education through an anti-racism framework, educators learn to unpack their own positionalities and how they show up in the classroom. These possibilities allow for the interrogation of normative white, Eurocentric practices in order to empower and uplift the narratives and experiences of students, educators, families and communities that have been silenced and devalued.
A lot of teacher candidates have been socialized into the whiteness of the educational system, but through faculty advocacy, many engage in the critical work needed to shift practice beyond additive approaches.    
What does it mean to collaborate with numerous scholars on this topic? How did it bring you a sense of community?
Dr. ABC: Working and walking in solidarity is essential for existence and progress in the work I do. Collegiality is an essential part of my own learning and something I value deeply.  The people I walk and work with come to these topics from various paths, lived experiences, positionality, pedagogical journeys, and vantage points. This difference is exactly what we need. This opportunity to push back at our own ideas in a critical reflective manner is what deepens the learning.