Professor George Dei receives University of Toronto President's Impact Award
March 10, 2023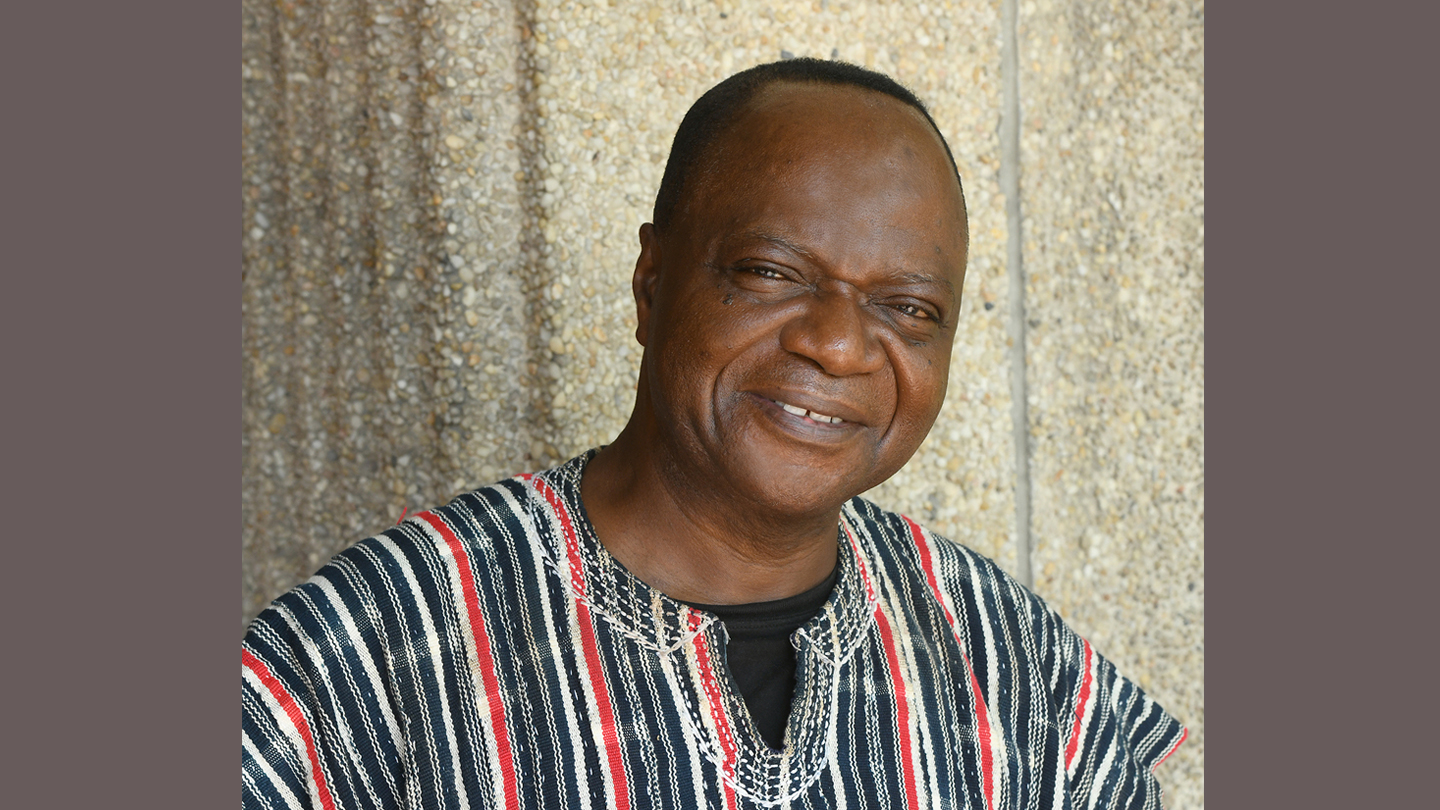 Professor George Dei, a globally renowned Black scholar, researcher, writer, and community leader, has been named a co-recipient of the 2023 President's Impact Award.
This award recognizes and celebrates University of Toronto faculty members whose research has led to significant impact beyond academia. Dei, a Royal Society of Canada fellow and co-founder of the Centre for Integrative Anti-Racism Studies, is being recognized for his influential work advancing anti-racism, race and equity, anti-colonial thought and African Indigeneity in education – and its sustained impact on policies, practices and advocacy for inclusive schooling and Black and racialized youth educational success in Canada and internationally.
"The award is special in that it is a recognition of work that extends beyond academia to have community impact," says Dei. "Any scholar will take satisfaction in that and, of course, I am indeed grateful, honoured and privileged. I feel proud and humbled with a realization that there is more work to be done in creating a more just, equitable and liberated society."
Based in OISE's department of Social Justice Education (SJE), Professor Dei is considered as one of Canada's foremost scholars on race and anti-racism studies, African Indigeneity and anti-colonial thought – publishing extensively on the topic for decades. In 2021, he received the Lifetime Achievement Award from the Ontario Alliance of Black School Educators for his longstanding work promoting Black and minority youth education. He has 40 books and over 70 refereed journal articles, and numerous national and international awards to his credit.
"Professor Dei has demonstrated tremendous research excellence that has had a worldwide impact, and his work and advocacy are indicative of his lifelong commitment to communities on a local, national and international scale," said Professor Erica Walker, Dean of OISE. "We are grateful for Professor Dei's commitment and service to so many and, on behalf of OISE, I congratulate him for receiving this prestigious award from the University of Toronto."
Numerous OISE faculty have been named to this award. In 2022, Professor Kang Lee was a named recipient. Professor Shelley Stagg Peterson won the award in 2021. Professor Kathleen Gallagher won the award, and was part of the award's first group of laureates.
President's Impact Award winners receive a monetary award of $10,000 per year for five years to be used toward their research. Laureates are also designated by the university as members of the President's Impact Academy, which meets to discuss matters relevant to research impact, offers advice to the Vice President, Research and Innovation, and Strategic Initiatives and advocates for sustained excellence in research and innovation impact within and outside of the University.
---
Praise, reverence, and stories of inspiration
Many of Dei's fellow peers and colleagues, overjoyed by this honour, regard him highly and recalled amazing moments with him.
"Professor Dei was the first Professor to write, teach and talk in various community forums about anti-racism in our society, schools and places of work," said Professor Njoki Wane, who currently serves as the SJE chair.
Dei was the first professor to teach many courses – including Indigeneity from a global perspective (in particular that people of African ancestry are Indigenous to Africa), decolonization and the anti-colonial, says Wane.
"I still remember the opposition, even threats he received for challenging the status quo; today, these courses have become normalized and everyone is teaching, researching and writing on them. I sincerely hope, people are engaging in these topics from a sincere and genuine standpoint."
Professor Wane is a co-Director of the Centre for Black Studies in Education, with Professor Ann Lopez, from OISE's Department of Leadership Higher and Adult Education, who adds: "Professor Dei's work on anti-racism education, Indigeneity, anti-Black racism decolonizing education has impacted not only students at OISE, but the wider community, locally and globally.
"He has always called on us to be brave in challenging all forms of oppression in education and schooling, and to be bold in creating space for alternative ways of knowing and constructing praxis that disrupts the taken-for-granted norms," said Lopez, the director of the Centre for Leadership and Diversity and Provostial Advisor on Access Programs. "Like so many graduates of OISE I had the privilege of Professor Dei on my thesis committee, challenging me to 'name it' and engage in research that challenges the status quo.
"Today as Professor Dei's colleague he still inspires us to be bold and agentive. Professor Dei is an outstanding scholar and mentor and I congratulate him on receiving the President's Impact Award."
Wane still remembers sitting in his classes during the 1990s, "as he challenged all his students to speak up about the injustices, both contemporary and historical," she recalls. "I still remember the pushback when he published his book on School Dropouts of Black students, which he referred to as push-out."
"Professor Dei has challenged us all to think outside the box and I whole heartily congratulate him on being a recipient of President's Impact Award."
---
Lasting lessons, a strong legacy
Professor Dei's many students, past and present, have been grateful to engage with and work with.
"As a student of Professor Dei, I have been fortunate to learn from, and work alongside him," said Marycarmen Lara-Villanueva, an OISE doctoral candidate and the senior coordinator at the Centre for Integrative Anti-Racism Studies.
Despite his renown, Professor Dei's humility is admired by his learning community, says Lara-Villanueva. "In my own work, he has inspired me to build bridges of solidarity, foster relationships, and deeply value the knowledge that emanates from outside institutions, including Elders, youth, and mothers' knowledges. His legacy is unparalleled, and I am humbled to be part of the anti-racist, anti-colonial knowledge, projects and efforts that he continues to build."
Kathy Lewis, an assistant curriculum leader at the Toronto District School Board's Scarborough Centre for Alternative Studies, is reminded of Dr. Dei's admonishment, "To know is to act politically and courageously."
"I have come to learn from Dr. Dei that ignorance and inaction are our greatest ordeals that hold us captive against our greatest human possibilities of harmony, grace, and truth. The power of coming to know and to speak differently, that Dr. Dei teaches, encourages the need for us to be critical in all spaces, physical and cognitive," says Lewis. "It is also our human responsibility to speak the truth about history and now through anti-racist, anti-colonial and decolonial lenses, to have an open-heartedness and an open-sacredness of community bonds and fellowship of the true spirit of humanhood, exploring and dismantling the anomaly of all oppressive established boundaries in our world."
Lara-Villaneva and Lewis are each excited for Dei's latest honour.
"Wholehearted congratulations to Professor Dei, as the recipient of the President's Impact Award! Professor Dei's intellectual impact extends beyond the confines of academia, reaching communities and educators globally," says Lara-Villaneva. "Throughout his career, Dr. Dei has encouraged his students to critically interrogate race and racism, while also planting seeds of possibility."
"My community and I are extremely proud of Dr. Dei's achievements," adds Lewis. "We are continuously deeply inspired by Dr. Dei's leadership, commitment, work, brilliance, humility, and warmth. Dr. Dei's work is critically crucial to our community and our world, carving the tools necessary that shape our individual and collective hope, vision, and action in achieving systemic, institutional, and individual change, a call for all of our critical consciousness of deeply rooted unchallenged, uninterrogated, and unequal ever-evolving, ever-changing, power relations and constancy that deny our individual and collective truths.
"Congratulations Dr. George Sefa Dei!  Thank you for being a true gem."
And, in receiving the President's Impact Award, Professor Dei is thankful for so many. "Of course, this award will not be possible simply with me working alone," he says.
He shares this honour with his family, faculty and staff colleagues, and especially his many devoted students both at OISE and beyond, "all who have mentored me in my academic travelogue over the years," he says.
"I most definitely make special mention of the local Black communities and groups that have sustained and supported me spiritually, emotionally, and physically in my research, teaching and advocacy work. Without such community, the wounds from our work never heal – even when the scars remain."