Research strides, community impacts, growing scholarship: a 2022 OISE year-in-review
January 9, 2023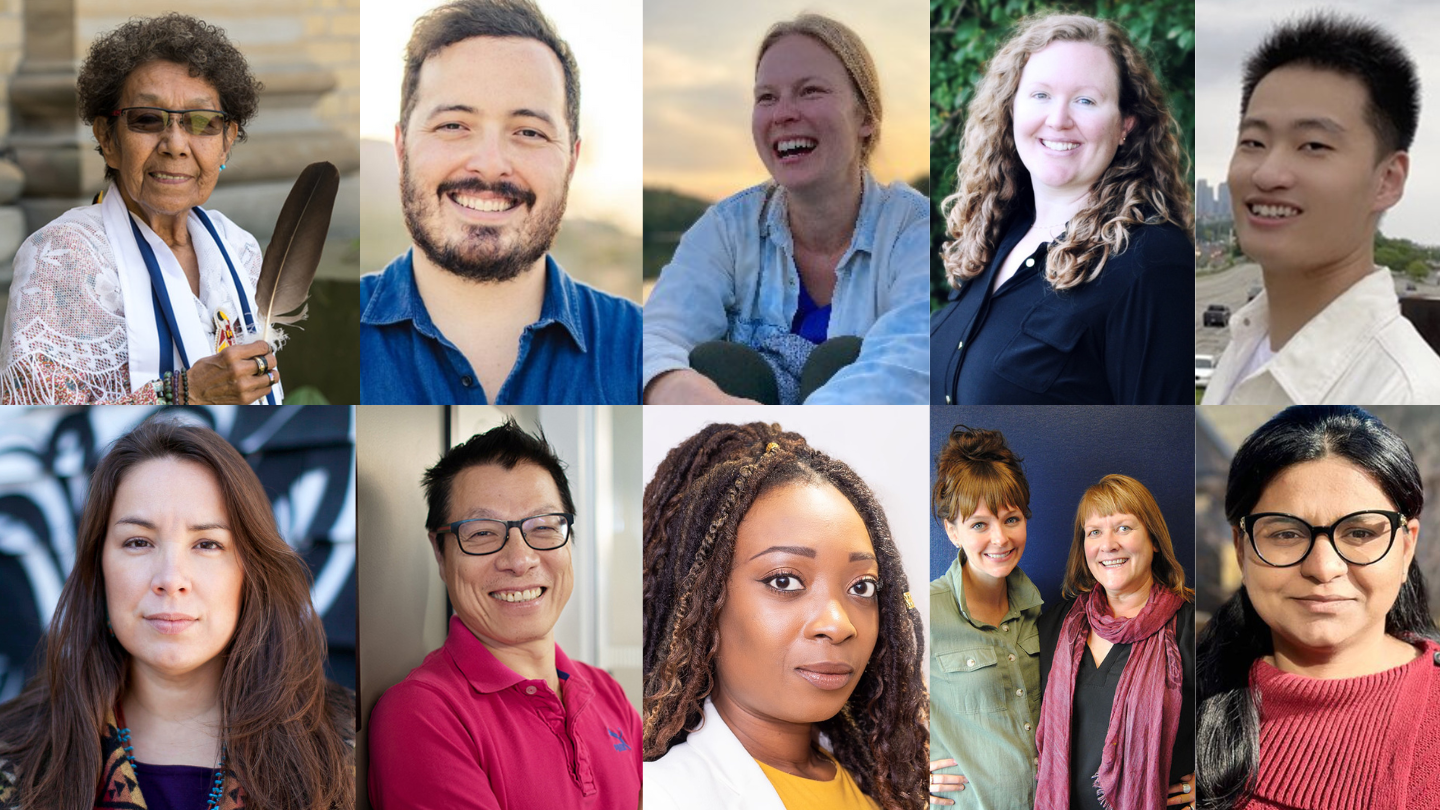 At the Ontario Institute for Studies in Education, our students, faculty, staff and alumni made research strides, had tremendous community impacts, and contributed to ongoing scholarship.
As Canada's only all-graduate institute of teaching, learning and research in education and human development, 2022 demonstrated that many in our networks continue to carry OISE's overall mission to prepare educators to make deep impacts globally.
In salute of a landmark year, here is only a sample of our accomplishments. We wish our community a productive, thoughtful and successful 2023.
---
We celebrated our new graduates, who will go on to do great things
By telling her story through her thoughtful dissertation, Dr. Jacque/line Lavallee's scholarship will have tremendous impacts on how Indigenous doctoral candidates approach academia.
Dr. Lavallee successfully defended her Doctorate of Education earlier this spring and graduated this past November. She studied what it means to offer traditional Anishinaabe teachings in the university. To do that, she centered her own story of education – one that weaves her experiences as a residential school survivor and school teacher, and teachings received as a person with specific roles with the Marten clan (the clan of her late father).
Many of our grads have persevered over great adversity. New grad Rabia Alsabaie faced many challenges in pursuing her master's degree as an international student, new immigrant, and mother of four children. After working for about a decade as a medical doctor in India, Salma Siddiqui navigated OISE excellently since arriving to Canada in 2020 with her family – gaining friendships and connections through the OISE Mentorship program and OISE's department of leadership, higher and adult education.
Our grads are breaking new ground. Dr. Bishop Owis, who successfully defended their doctoral dissertation this past spring, emphasized that a focus on care – the kind of care that happens in queer and trans communities specifically, but also between racialized people – is paramount as teachers equip themselves to improve their educational practice. They currently serve as a postdoctoral research fellow at the University of British Columbia in the Department of Curriculum and Pedagogy.
Dr. Preeti Raman entered OISE as a computer science engineer and international student and left the Institute as a renowned learning technologist, currently on staff at the Massachusetts Institute of Technology (MIT). Dr. Mona El Samaty, the 2022 Leithwood Award winner for Outstanding Thesis of the Year, delivered a brilliant dissertation about the linguistic and cultural realities of Montreal.
Our U of T Student Leadership Award winners – Anthonia Ikemeh, Brian Henriques, Brittany Burek, and Liwei Liao – have demonstrated outstanding service and commitment to the OISE and the broader university community.
Congratulations to all of our graduates!
---
OISE Continuing & Professional Learning launches first-of-its-kind fellowships
The first of its kind offered by Canadian educational institutes, OISE CPL's initial Advancing Sustainable Development Goals (SDGs) in Higher Education Professional Learning Fellowship offers a 14-week, online program for mid-career education professionals. CPL will begin offering four more fellowships in 2023 – each focused on continuing education, entrepreneurship, education technologies, and inclusive learning.
Learn more about these new fellowships
---
Our faculty continue to receive accolades for their work
Kang Lee, a Tier 1 Canada Research Chair and the world's foremost authority on childhood dishonesty, was named a co-winner of the University of Toronto President's Impact Award. Lee was also recently selected as one of three finalists in the Insight category of the federal Social Sciences and Humanities Research Council's (SSHRC) Impact Award program.
Three OISE faculty members were among 20 new and renewed appointments for Canada Research Chairs at the University of Toronto in 2022. Professor Chloe Hamza was appointed a Tier 2 Canada Research Chair in Stress and Coping in Post-Secondary Contexts. Professor Elizabeth Buckner was appointed a Tier 2 Canada Research Chair in Higher Education for Sustainable Global Development. Professor Eve Tuck was renewed as a Tier 2 Canada Research Chair in Indigenous Methodologies with Youth and Communities. Professor Tuck is an Associate Professor in OISE's Department of Social Justice Education. Hamza and Buckner are first-time appointments as CRCs.
As well, Dr. Jeffrey Ansloos, Associate Professor in Indigenous Health and Social Policy at the Ontario Institute for Studies in Education, has been elected to the Royal Society of Canada's College of New Scholars, Artists and Scientists.
Dr. Ansloos, a Tier 2 Canada Research Chair in Critical Studies in Indigenous Health and Social Action on Suicide through the Social Sciences and Humanities Research Council (SSHRC), is OISE's first appointment to newest of the Royal Society's four entities – it was first launched in 2014. 
Learn more about Dr. Ansloos' appointment
---
Our donors gave generously to the Institute
Dr. Eric Jackman supported the Diversity in Education fund with a $270,000 gift in 2022.
Diversity has always been central to the mission of the Dr. Eric Jackman Institute of Child Study (JICS) Laboratory School, a globally renowned centre for elementary education, teacher education and research. When our students and teacher candidates learn and study within a classroom community reflective of the rich diversity of Toronto, they see the world through new eyes, embrace differences, and practice caring, empathy and compassion. Yet, finances are often a barrier for families wishing to enrol their students in the JICS Lab School. Annual tuition tops $26,000 a student, and tuition support is only available for new families with students in Grades 4 through 6. In August 2022 alone, five families cited cost as their reason for declining an offer of admission to the JICS Lab School's nursery class.
The Dr. Eric Jackman Institute of Child Study Lab School Endowment was established to ensure finances are no longer a barrier for our youngest students, providing tuition support grants in perpetuity. Awarded to the low-income families of students in the nursery to grade three classes, the grants will help offset the cost of tuition, along with related educational costs.
Learn more about financial assistance at the JICS
Learn about how to give to OISE
---
Our scholars are establishing international partnerships
In December, it was publicly announced that Dr. Cassie J. Brownell, an Assistant Professor in the Department of Curriculum, Teaching, and Learning, is the Principal Investigator on an international research collaboration trio, funded by a rapid-response grant from the Government of Canada's New Frontiers in Research Fund.
The funding will support Dr. Brownell of OISE, and Assistant Professors Kathleen Schenkel of San Diego State University and Jon M. Wargo of Boston College, as they trial innovative methods for recruitment and retention of child-aged research participants. Designed in response to research challenges the team encountered during the COVID-19 pandemic, their project focuses on alternative ways researchers might do place-based science inquiries with children from afar.
Learn more this new collaboration
---
Our global rankings remain strong
OISE continues to rank highly among global educational institutes.
In April, QS World University Rankings has placed the Ontario Institute for Studies in Education (OISE) as the 4th best educational institution in the world. In July, the ShanghaiRanking Consultancy has ranked the Ontario Institute for Studies in Education 10th globally, for the second straight year, in their 2022 ranking of academic subjects.
OISE remains the highest ranked educational institute in Canada – outranking institutions including the University of Cambridge and the University of California, Berkeley. Its Canadian counterpart, the University of British Columbia, ranked 9th on the QS World University Rankings list in 2022.
In the ShanghaiRanking list in 2017, OISE was ranked 43rd. OISE continues to rank 1st among Canadian institutions.
---
Our community is planting the seeds that will grow Indigenous-led research
Dr. Eve Tuck wants to see more research done with rather than on Indigenous communities.
The OISE Indigenous Studies scholar has created a wholly innovative digital resource to inspire researchers to exchange their typical research methodologies for "more ethical, collaborative practices," she says.
Launched in 2022, the new Collaborative Indigenous Research Digital Garden contains 200 examples of research undertaken in collaboration with Indigenous communities around the world. Available free to university and community-based researchers, OISE researchers hope the garden will soon be filled with exponentially more profiles.
---
Our scholars launched a new digitally immersive land-centred learning environment
The Deepening Knowledge Project (DKP) website and the Centre for Indigenous Educational Research computer lab at OISE's Indigenous Educational Research Centre were all revealed in 2022 – by Dr. Sandra Styres, her research team, and Elder Clayton Shirt.
The multifaceted centre, located on the 10th floor of the OISE building, will provide a key space for Indigenous-specific research across OISE – where Indigenous faculty and students can access Indigenous resources, collaborate on research projects, and engage in critical conversations about their work in a sacred space.
---
Many of our community members published books this year
Professor Kathleen Gallagher, whose research has aimed to make an impact on our understanding of youth and social inequality, released a new book in 2022.
Hope in a Collapsing World: Youth, Theatre, and Listening as a Political Alternative presents the process and findings of Gallagher's "Youth, Theatre, Radical Hope and the Ethical Imaginary" research project – which was a five-year international study investigating how the drama classroom can help young people grow into engaged citizens.
The book was created in collaboration with Andrew Kushnir, a Toronto-based playwright.
Meanwhile, Dr. Devon Healey and Professor Tanya Titchkosky took part in a double book launch on Oct. 12. Healey's her new book Dramatizing Blindness: Disability Studies as Critical Creative Narrative and DisAppearing: Encounters in Disability Studies – a collaborative work co-edited by Titchkosky, Elaine Cagulada, Madeleine De Welles and Dr. Efrat Gold – came together at Tranzac Club for selected readings and remarks from the editors and authors for each book
The launch also featured opening remarks from blind author and scholar, Dr. Rod Michalko – who has taught Disability Studies at OISE, New College, U of T, York University and elsewhere.
Dramatizing Blindness seeks to address how blindness is lived in five particular contexts—in the offices of ophthalmology and psychiatry, higher education classrooms, accessibility service offices, on the street and at home. DisAppearing is a collection of essays, poetry and podcast transcripts, that seeks to provide more intimacy with the cultural scenes within which we encounter disability and disabled people – from educational settings and novels and other texts, as well as in hospitals and policing and in our homes.
As well, Perry King, OISE's communications officer, saw much momentum and dialogue with his debut book Rebound: Sports, Community and the Inclusive City. On May 19, King and OISE alum Jeff Myers spoke at length about the themes of the book in our Writer's Roost web series.  
Learn more about the Writer's Roost series
Tagged:
Advancement Impact
,
Alumni
,
Awards
,
Black Excellence
,
Equity and Diversity
,
Indigenous
,
International
,
LGBTQ2S+
,
OISE Staff
,
Research and Innovation
,
Research Impact
,
Social Justice