Students host inaugural Nina Bascia symposium, the first post-pandemic, in-person OISE conference
December 12, 2022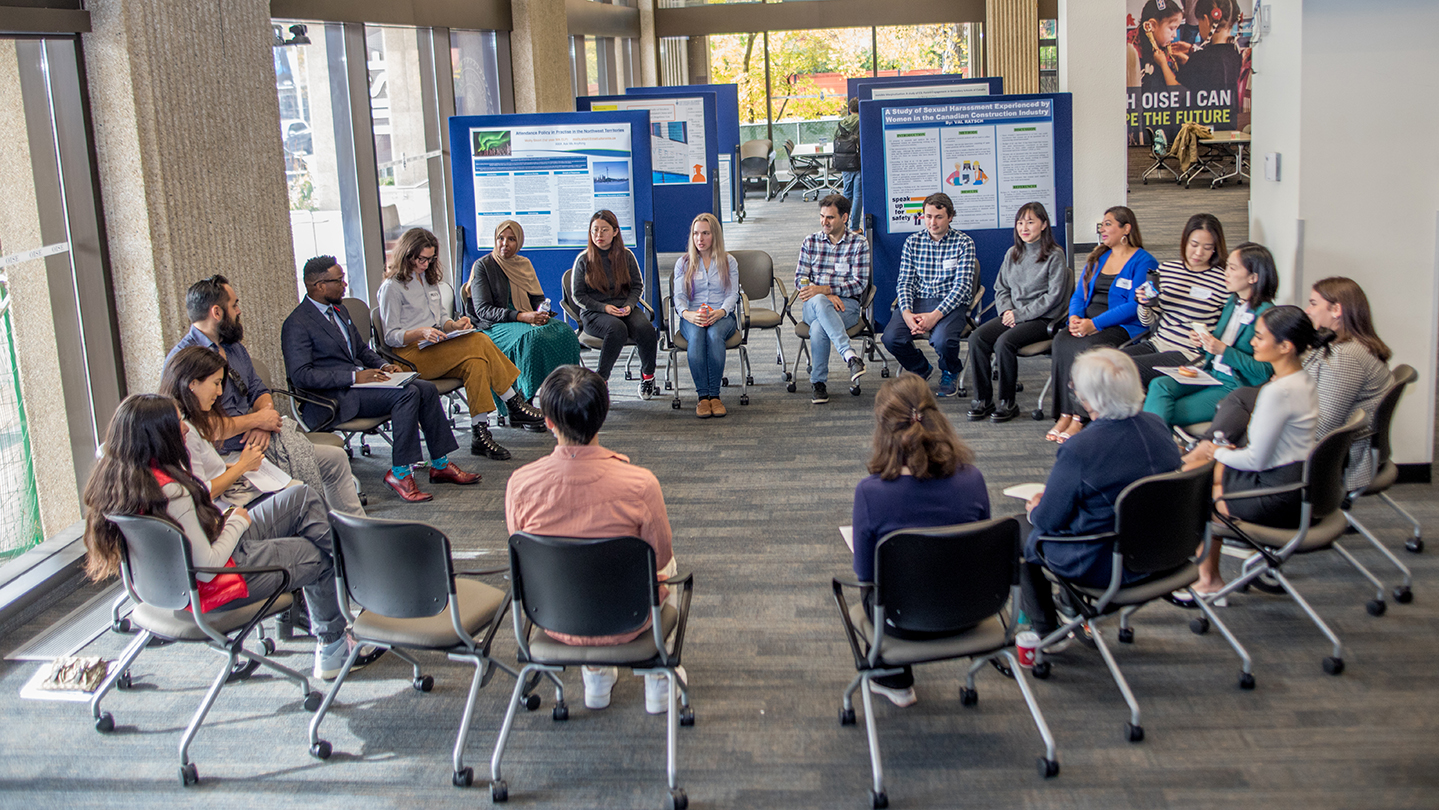 On Nov. 5, the OISE Library was busier and livelier than it has been in a while.
The inaugural Nina Bascia Education Policy Symposium (NBEPS) – organized by the team of the student association for OISE's department of Leadership, Higher & Adult Education (LHAE DSA) and spearheaded by the Academic Affairs team – was the first post-pandemic era poster conference at OISE and brought together over 50 students and faculty who were seeing each other in-person for the very first time.
The symposium has been one of the first student-led attempts after the pandemic to bring students back to in-person and hybrid exchange while providing a platform for personal and academic community-building.
Despite the symposium being held in a hybrid format, a majority of the participants attended in-person. The NBEPS was sponsored by the Office of the Associate Dean, Research, International & Innovation and received the full support of Professor Barbara Fallon, Associate Vice President, Research, who attended in-person, offered keynote remarks, and inaugurated the symposium. 
"It is fantastic to be here today for the launch of this timely and innovative training opportunity. Symposium like this one are critical to sharing knowledge and testing our ideas. Thanks to the student leaders who initiated this event. Your tireless work exemplifies the ways that learning often happens beyond the classroom," noted Professor Fallon. "As student researchers, you represent the excellence and diversity of scholarship and creative practice that U of T prides itself on."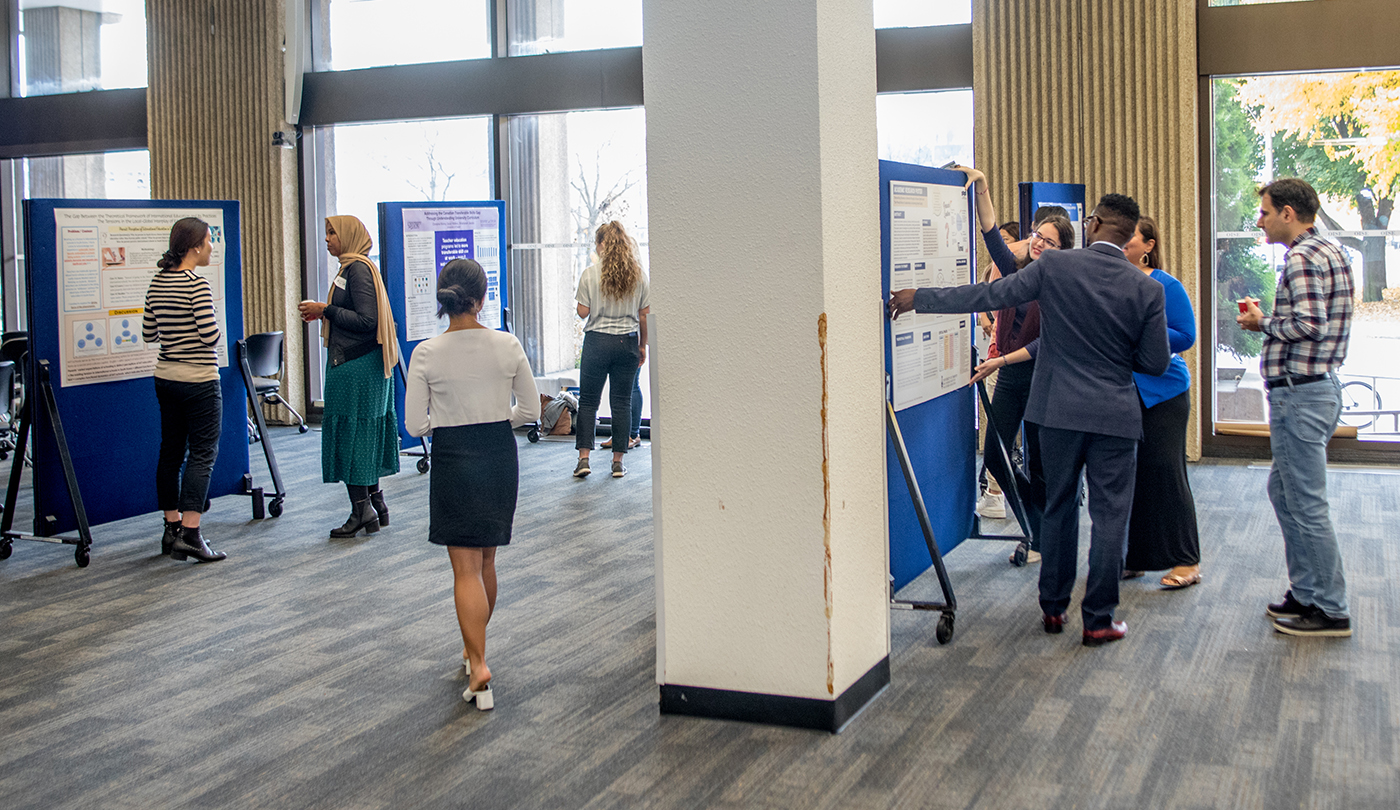 Other notable speakers included Professor Michele Peterson-Badali, Associate Dean, Research, International, & Innovation; Professor Nina Bascia, LHAE's long-serving chair and visiting professor at the Harvard Graduate School of Education; and Professor Coleen Scully-Stewart, professor of Educational Leadership and Policy; and Dr. Carol Campbell, LHAE's Associate Chair. 
During her remarks, Professor Peterson-Badali praised OISE's research stature globally – that it is the number four faculty of education worldwide, behind only institutes at University College London, Cambridge, and Oxford, that "we can be justifiably proud of OISE's research excellence and impact."
"As producers, mobilizers, translators, and users of research evidence that is used globally to inform practice and policy, OISE's reach – via its students, faculty members, and alumni – is enormous," she added. "This excellence and impact come from the tremendous, talented students we are fortunate to recruit to OISE, combined with the rigorous training, support, and mentorship they receive in their programs and from their supervisors."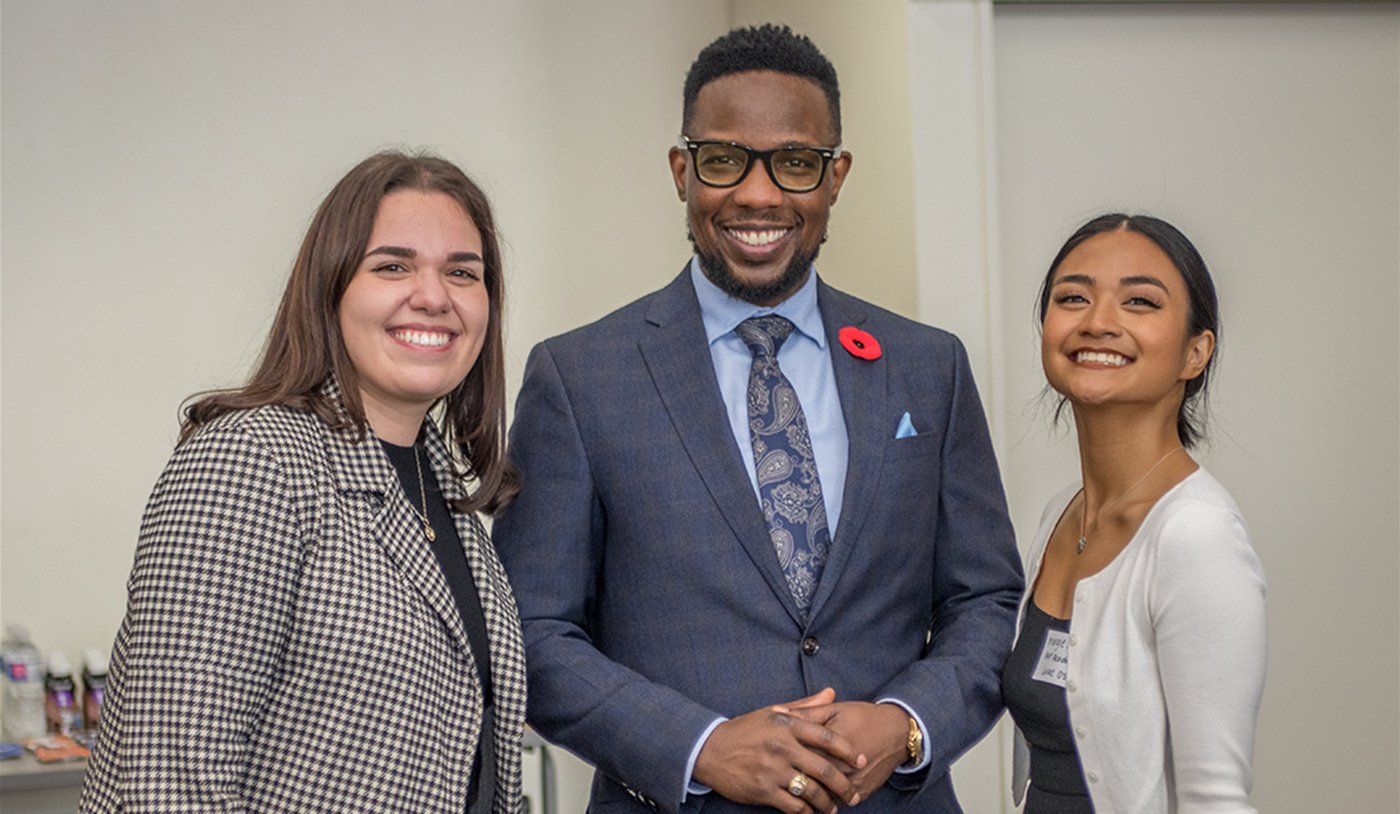 Research Excellence, on display
OISE students subsequently had the opportunity to present their research to peers and faculty members, exchange views on their future (research) plans and build community amongst themselves.
In total eight research projects were presented. They include:
Shelly

Khushal

's

"Dismantling Racism in Schools through a Human Rights Lens: The Pivotal Role of Leadership in Achieving Racial Equity"

Angelina Rurui

Liu

's

"A Comparative Study of Student Unions between Mainland China and Hong Kong"

Lu Wang

's "When English Education Becomes a Scarce Resource, how will Education Equality be Affected?"

Christine

Mishra

's

"Addressing Canadian Transferable Skills Gap Through Understanding University Curriculum"

Valerie

Ratsch

's

"Women in Construction"

Yibo

Zeng

's

"The Leadership Impact of English Language Learning in Chinese Schools"

Molly Short

's Attendance Policy in Practice in the Northwest Territories," and

Jennie Kim

's "Equity in International Schools: The Gap between International Policy and Practice." 

 
In a closing "circle of wisdom," students shared their experiences – their adventurous paths during the poster creation, their doubts while getting ready for the symposium, some key learning takeaways from this experience, insights for future events and their gratitude to the organization team for providing a safe environment for exchange and inspiration.
Professor Scully-Stewart facilitated the closing discussion and provided valuable tips and guidance to the participants and guests regarding their participation in future conferences. 
Professor Glen Jones, who was unable to attend due to a research engagement in South America, intimated that "the NBEPS is a quite wonderful initiative both in terms of honoring Nina's tremendous contribution to scholarship and academic leadership in this area, but also in terms of providing opportunities for students to share their work, and generally contribute to the development of a student research community focusing on educational policy research." 
Asked how he felt about the event, Henry Ssali, LHAE DSA Vice President, Academic Affairs and Project Lead, noted that he was most humbled by his colleagues Samantha Clarizio and Margaret De Leon, both DSA Associate Vice-Presidents, Academic Affairs, and the entire LHAE DSA Team for the commitment to make the symposium a reality. 
"I am immensely thankful for the leadership of Sam and Margie with whom we have been meeting twice a week since August to plan for the NBEPS," he said. "It's been a privilege learning from them, and I look forward to continuing working together. I would also like to thank [former LHAE Recruitment and Communications Specialist] Vesna Bajic, Professor Scully-Stewart, Justin Patrick, Alice Romo, the entire DSA Team, Jenaya Webb and the OISE Library team, Neil Tinker and the Education Commons Team for their support throughout the planning process."  
Hopefully, this event will help launch more students towards future events outside of OISE as well, where they will be able to further disseminate their research achievements. 
---
Marianthi Kontelli is a doctoral student in Higher Education and an Events Coordinator for LHAE DSA. Henry Ssali is a doctoral student and Vice-President, Internal for the OISE Alumni Association.