Master of Education in Higher Education (Student Development & Student Services in Higher Education Field)

Master of Education in Higher Education (Student Development & Student Services in Higher Education Field) Overview
Are you a student development and services professional who wants to advance in your career? 
The number of staff in student development and student services roles in Canada is growing, as well as the complex challenges they're facing. This course-based, professional degree program prepares students to become experienced practitioners and educational leaders, knowledgeable student development and student services scholars, and reflective and critical thinkers guided by a commitment to equity and the creation of maintenance of inclusive learning environments.
Students will learn and understand:
The history, philosophy, and foundations of student development and services, including theories and conceptual foundations.
Relevant characteristics of students and their experience in postsecondary education environments.
Administration and organization of student services in postsecondary education.
Assessment, evaluation, and research.
Broader issues within postsecondary education systems and their relationship to student development.
Graduates will be able to apply theory to meaningful practice with individuals and organization; communicate effectively about the development of students and the services within postsecondary education institutions that impact students' development; and construct, implement, and assess programs and processes that address issues of student growth and development.
Preference will be given to applicants who have some experience working in student facing roles in postsecondary education. We construe experience quite broadly, to include those working in student life while studying.
For detailed information about the program, please consult the School of Graduate Studies Calendar.
At a Glance
Study Options
Full-time (4 sessions)
Part-time (10 sessions)
Coursework 
Funding and Tuition
For current information about tuition fees, funding, and financial support, visit Tuition & Financial Support.  
Deadlines
Applications for the 2024-2025 admissions cycle are now open. Apply Today !!
Ready to join one of the world's top universities? Take the next step in your academic journey and start your application to graduate studies at OISE.
Have questions about our program, admissions, financial support or career options after graduation? Our team has the answer you're looking for. Contact us for one-on-one support.
We host information sessions, open houses and tours throughout the year. Come discover what it's like to study at OISE. Explore campus and meet our community.
Why I Chose Leadership, Adult & Higher Education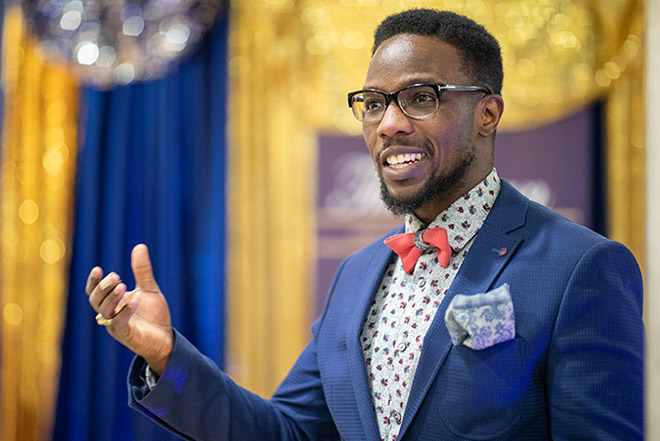 Henry Ssali (Master of Arts 2019)
Founder and Executive Director, University of Toronto African Alumni Association
"OISE has one of the most vibrant student communities in the entire University of Toronto. As a public relations professional and community leader, I see it reflected in the number of campus clubs and associations OISE students participate in on a regular basis."
Master of Education in Higher Education Admission Requirements
General Admission Requirements
Please visit the OISE Admissions website for detailed information about the application process, including general minimum admission requirements and supporting documents. 
Program-Specific Information (Minimum Admission Requirements)
---
Required Supporting Documents
All applicants must submit: 
Transcript(s) from each post-secondary institution attended.
Two letters of reference (one academic and one professional).

Resumé

that provides clear and complete information about the applicant's work or field experience related to their proposed studies.
Answers to faculty admissions questions (applicants are to answer each question in an essay format).
Ready to join one of the world's top universities?
Take the next step in your academic journey and start your application to graduate studies at OISE.