Master of Arts in Educational Leadership & Policy

Master of Arts in Educational Leadership & Policy Overview
Are you curious and passionate about researching, critiquing and advancing issues of educational leadership, policy, social diversity and change — particularly in relation to PK-12 education systems? This may be the place for you.
The MA program in Educational Leadership and Policy fosters the study of problems in leadership and policy with respect to educational programs, with an emphasis on elementary and secondary schools. It will best serve students who have a commitment to scholarship and research as a means of deepening their understanding of leadership action in schools or in other educational and service institutions.
The MA is available through both full-time and part-time studies. While experience in teaching and administration is not an essential prerequisite for admission, such experience provides a desirable background. The department welcomes applicants with diverse but relevant backgrounds.
For detailed information about the program, please consult the School of Graduate Studies Calendar.
At a Glance
Study Options
Full-time (6 sessions)
Part-time (10 sessions)
Program Requirements
Coursework
Thesis
Funding and Tuition
For current information about tuition fees, funding, and financial support, visit Tuition & Financial Support.  
Deadlines
Applications for the 2024-2025 admissions cycle are now open. Apply Today !!
Ready to join one of the world's top universities? Take the next step in your academic journey and start your application to graduate studies at OISE.
Have questions about our program, admissions, financial support or career options after graduation? Our team has the answer you're looking for. Contact us for one-on-one support.
We host information sessions, open houses and tours throughout the year. Come discover what it's like to study at OISE. Explore campus and meet our community.
Why I Chose Leadership, Adult & Higher Education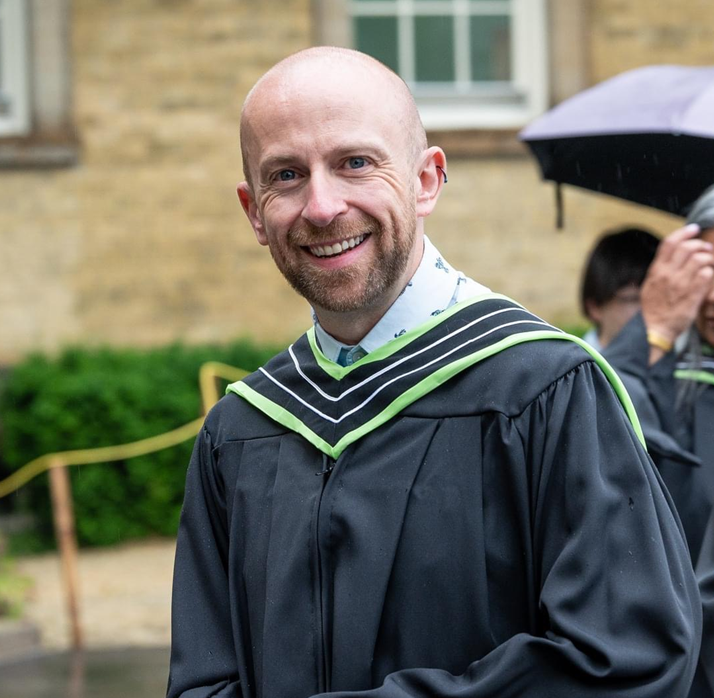 Sean Hartley (Master of Education 2023)
 
"When I made the decision to pursue an M.Ed, I chose OISE for a number of reasons. Chief among them was the curriculum; even within the Educational Leadership and Policy stream, I had the freedom to pursue subjects and topics that I found interesting. Professors and instructors were top-notch, allowing me to learn from their expertise and challenging my own thinking. I did my best academic work of my life at OISE, which is due in no small part to the faculty."
General Admission Requirements
Please visit the OISE Admissions website for detailed information about the application process, including general minimum admission requirements and supporting documents. 
Program-Specific Information
All applicants must submit: 
Transcript(s) from each post-secondary institution attended.
Two letters of reference (one academic, the other either academic or professional).
Resumé 
Answers to faculty admissions questions (applicants are to answer each question in an essay format). Please see the questions in the next accordion.
Applicants are to answer each question in an essay format. 
Please address the following (2000 words max): 

Describe your academic background, professional experiences, community service and other relevant experiences and accomplishments and how they relate to PK-12 Educational Leadership and Policy. If your academic background is not in education or a related social science field, you are encouraged to describe how your experiences have prepared you for the program. 

Discuss your research potential, prior research experience (if any), as well as any other related skills or experiences that make you a strong candidate for a research stream program. 

Describe your research interests and/or state the research question you wish to investigate and how. You should highlight the synergy between one or more of the program's thematic areas (Policy, Leadership, Change, and Social Diversity) and your proposed research. You may want to cite core scholars or readings that orient you in this field. 

(optional) You are encouraged to speak to your academic and professional goals (after graduation) and how pursuing the MA in Educational Leadership and Policy would advance these goals. 

(optional) The Educational Leadership and Policy program seeks to maintain a diverse, inclusive, and engaged learning community. You are encouraged to identify any ways that your identity (including--but not limited to--ancestry, culture, gender, race, religion, socio-economic status or other social identities) or life experience will contribute to this community. 

(optional) Is there any additional information you want to share with the Admissions Committee that will inform their review of your application? 

Indicate the faculty member(s) you would like to work with in the program and why. How will the expertise of the faculty member(s) support your proposed research? Note you do not need to secure a supervisor prior to applying. Please take time to review descriptions of the Educational Leadership & Policy faculty members here (200 words max) 

(MA full-time applicants only) If you will have funding from your home government, international organization or funding agencies, please provide details (Name of funding agency, value and duration).  If this does not apply to you, please leave blank 
Ready to join one of the world's top universities?
Take the next step in your academic journey and start your application to graduate studies at OISE.